There comes a time in everyone's life when they realize that without investing for the future, they will not enjoy the standard of living they want in retirement. They will most likely know they lack the basic skills to start investing. If you find yourself in that situation, then reading "Investing with She's on the Money – Build your future wealth" is an excellent start to your financial journey.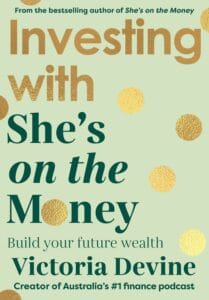 Victoria Devine is a financial adviser who has dedicated herself to ensuring that all people can learn about money management, even when they can't afford or require the services of a financial adviser. She provides the very popular She's on the Money podcast and an online community.
As Victoria says:
Her aim is to empower her wonderful community – and everyone else I could possibly reach – on their financial journeys
Her first book, She's on the Money, is also a valuable resource as a general guide. However, Investing with She's on the Money, is for those who want to take the next step in money management by investing.
In the book, Victoria will give you the basic knowledge you require to start investing in shares and real estate together with some sound advice on how to boost your superannuation. This information is supported with discussions about risk management, tax and making a plan.
This book will encourage you to take that first step. Once you have started, I am confident you will be motivated to learn more. There is a wealth of information in easy to read personal finance books. You may find other books in my Good Financial Reads, book reviews.
I believe that being part of the She's on the Money online community is an excellent place to connect with like-minded investors. Here they can share their experiences and ask questions.
I would recommend this book, to those who want an introduction to investing. By reading Investing with She's on the Money, you should have the skills to decide where you want to invest your money and how best to manage that investment.
Glenis Phillips SF FIN – Good Financial Reads
Disclaimer: Financial Mappers does not have an Australian Services License, does not offer financial planning advice, and does not recommend financial products.